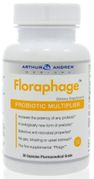 Floraphage (Probiotic Multiplier) by Arthur Andrew Medical helps support the restoration and maintenance of the highly sensitive digestive ecosystem.

The human digestive tract contains trillions of microorganisms that constantly compete for space and nutrients. This system can be highly susceptible to attacks from harmful bacteria, which can result in digestive discomfort and a weakened immune system.

It is therefore important for beneficial bacteria to outperform these harmful bacteria so that proper intestinal balance and overall good health can be achieved. Unfortunately the opposite can sometimes occur, in which aggressive strains of harmful bacteria outgrow and consume more resources than the beneficial bacteria.

This phenomenon can be associated with poor health, abdominal discomfort, and bacterial infections. To combat these intestinal imbalances and their damaging effects,

Floraphage Ingredients in 1 capsule:
Floraphage 1, 000,000 PFUs
Prebiotic Bacteriophage

Other Ingredients: Cellulose (vegetarian Capsules), Non-GMO Tapioca Dextrin.

This product does not contain dairy, gluten, soy, artificial colors or preservatives.

Suggested Use:
Adults take 1 capsule daily or as directed by your healthcare practitioner.

Consult your healthcare practitioner prior to using this product if you are pregnant or nursing.

Keep out of reach of children.