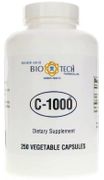 C-1000 by Bio-Tech Pharmacal is a dietary supplement that contains vitamin C as ascorbic acid and seeks to support a healthy immune system with free radical scavenging antioxidants. Vitamin C also supports the formation of collagen, which helps to form tissue and may be useful for support of healthy joints and healthy connective tissue.

Vitamin C is essential to several biological functions in the body, including collagen biosynthesis, which seeks to support healthy connective tissue and healthy-looking skin. L-carnitine synthesis support is important to energy transportation in cells, normal aging, and a healthy cardiovascular system. Vitamin C also promotes normal neurotransmission in a healthy central nervous system, as well as normal protein metabolism.

Vitamin C also provides antioxidants that seek to stop cell oxidation, which is a chemical reaction that produces free radicals that can disrupt normal cellular develop. Inside the body, antioxidants may support a healthy immune system and provide support against free radicals.

C-1000 Benefits:
• Vitamin C from ascorbic acid
• May support healthy tissue
• May provide antioxidant support

C-1000 Ingredients in 1 capsule:
Vitamin C (as ascorbic acid) 1,000 mg

Other Ingredients: hydroxypropyl methylcellulose (vegetable) capsules.

This product does not contain dairy, egg, fish, shellfish, nuts, wheat, gluten, soy, sugar, yeast, artificial preservatives or colors.

Suggested Use:
Adults: Take 1 capsule per day or as directed by your healthcare practitioner.

Consult your healthcare practitioner prior to using this product if your are pregnant, nursing, trying to conceive, taking any medications or have a medical condition,

Keep out of reach of children.