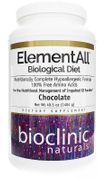 Temporarily Unavailable

ElementalAll Biological Diet (Chocolate) by Bioclinic Naturals is a nutritionally complete, hypoallergenic formula for nutritional management of impaired G.I. function.

It includes all the essential micro and macronutrients optimized for easy assimilation and is designed to be a source of comprehensive nutrition to support gastrointestinal health.

Elemental diets are quickly assimilated in the upper gastric tract and have minimal digestive needs.

The therapeutic efficacy of elemental diets has partly been attributed to the reduction of common allergens while providing nutrients requiring minimal digestion. This supports gastrointestinal mucosal health, normal intestinal permeability, and healthy lactulose/L-rhamnose permeability ratio. A full elemental diet may help support gastrointestinal health, while a half elemental diet may help maintain gastrointestinal health.

Elemental diets may support natural inflammation transition from acute to resolution state by supporting normal levels of NF-kB.5

They may also favorably shift the type and amount of normal gut microbiota, particularly in regards to Bacteroides fragilis, helping organize the body's response to cellular debris to maintain healthy gastrointestinal mucosa.

Elemental diets may help support a healthy lactulose/L-rhamnose permeability ratio, normal lactulose levels in the breath, and healthy integrity of the intestinal mucosal lining.

Additionally, they may help organize the body's response to cellular debris in support of joint health as well as gastrointestinal health.

ElementalAll Biological Diet Ingredients in 4 scoops:
Vitamin A (Retinyl Palmitate) 1008 mcg
Vitamin C (Sodium Ascorbate) 80 mg
Vitamin D3 (Cholecalciferol) 5.6 mcg
Vitamin E (dl-Alpha Tocopheryl Acetate) 18.4 mg
Vitamin K2 (Menaquinone MK-7) 40 mcg
Thiamin (Hydrochloride) 2 mg
Riboflavin (Riboflavin-5-Phosphate) 2 mg
Niacin (Nicotinate Acid, Tryptophan) 16 mg
Vitamin B6 (Pyridoxal-5-Phosphate) 2.6 mg
Folate (from (6S)-5-Methyltetrahydrofolic Acid (MTHF), Glucosamine Salt, Quatrefolic, Folic Acid) DFE 456 mcg
B12 (Methylcobalamin) 287.4 mcg
Biotin 200 mcg
Pantothenic Acid (Calcium d-Pantothenate) 13 mg
Choline (Citrate) 132 mg
Calcium (Phosphate, Glycerophosphate) 680 mg
Iron (Ferrous Fumarate) 8 mg
Phosphorus (Calcium Phosphate, Calcium Glycerophosphate) 280 mg
Iodine (Potassium Iodide) 68 mcg
Magnesium (Citrate, Glycerophosphate) 132 mg
Zinc (Sulfate, Monohydrate) 8.3 mg
Selenium (Selenomethionine) 88 mcg
Copper (Sulfate) 0.668 mg
Manganese (Citrate) 1.32 mg
Chromium (Picolinate) 68 mcg
Molybdenum (Sodium Molybdate) 24 mcg
Sodium (Citrate, Dihydrate) 320 mg
Potassium (Citrate) 580 mg
L-Glutamine 8889 mg
L-Leucine 6667 mg
L-Arginine 4444 mg
L-Isoleucine 1800 mg
L-Valine 1800 mg
L-Lysine 1444 mg
L-Phenylalanine 800 mg
L-Threonine 800 mg
L-Histidine 600 mg
L-Cysteine 556 mg
L-Methionine 480 mg
L-Tyrosine 450 mg
L-Aspartic Acid 444 mg
L-Proline 444 mg
L-Tryptophan 180 mg
L-Serine 111 mg
L-Alanine 111 mg
Glycine 111 mg
Taurine 44 mg
L-Carnitine (Tartrate) 44 mg
Boron (Sodium Borate) 1 mg

Other Ingredients: Organic tapioca dextrose, organic tapioca maltodextrin, organic safflower oil, medium chain triglycerides (refined coconut), natural flavor (chocolate powder), natural flavor (organic cocoa powder), natural flavor (vanilla), sunflower lecithin, silica.

This product contains fish.

This product does not contain artificial colors, preservatives, or sweeteners; no dairy, sugar, wheat, gluten, yeast, soy, corn, egg, fish, shellfish, salt, tree nuts, or GMOs. Suitable for vegetarians.

Suggested Use:
Mix one serving (4 scoops) in 500 ml of water or as directed by your healthcare practitioner. You can adjust by adding more water if desired. Take 3 servings per day or as directed by your healthcare practitioner.

This product is designed for dietary support and intended for use only under the direction of a qualified health care professional.

Consult your healthcare practitioner prior to use if you are pregnant, trying to become pregnant, nursing, taking medication, have a medical condition or anticipate surgery.

Keep out of reach of children.