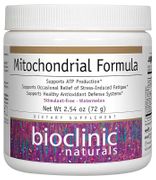 Mitochondrial Formula by Bioclinic Naturals is a unique combination of nutrients designed to enhance mitochondrial function by increasing ATP production, while also providing intracellular antioxidant protection.

• Helps support ATP, a factor in cellular energy production
• Helps support cardiovascular health
• Supports the function of healthy antioxidant defense systems by way of the antioxidant enzyme superoxide dismutase
• Supports the occasional relief of stress-induced fatigue
• Helps support healthy muscle when used in conjunction with resistance training

Mitochondrial Formula Ingredients in 1 scoop:
Acetyl-L-carnitine (HCl) 1500 mg
Coenzyme Q10 (Microorganism) 300 mg
ElevATP 150 mg
Ancient Peat Extract 148.5 mg
Apple Extract 85:1 (Malus domestica) (fruit) 1.5 mg
Opitac L-glutathione 100 mg
SOD B Extramel 10 mg
Superoxide Dismutase (Cucumis melo) (fruit) 140 IU

Other Ingredients: Natural flavor (watermelon), stevia leaf extract.

This product does not contain artificial colors, preservatives, or sweeteners; no dairy, sugar, wheat, gluten, yeast, soy, corn, egg, fish, shellfish, salt, tree nuts, or GMOs. Suitable for vegetarians.

Suggested Use:
Dissolve 1 heaping scoop (2.4 g) per day in 8 oz of water or as directed by your healthcare practitioner.

Consult your healthcare practitioner prior to use if you are pregnant, trying to become pregnant, nursing, taking medication, have a medical condition or anticipate surgery.

Keep out of reach of children.