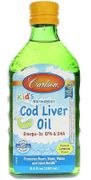 Kid's Cod Liver Oil Omega-3s by Carlson Labs has received numerous awards for its taste and quality. A single teaspoonful provides 1,100 mg of omega-3s, including EPA and DHA, which support heart, brain, vision, and joint health.

• Promotes heart, brain, and immune health, and supports healthy growth and development
• 550 mg of omega-3s per 1/2 teaspoonful + vitamins A and D3
• Sustainably sourced from wild-caught Norwegian Arctic cod

Carlson Labs sources the highest quality Arctic cod off the coast of Norway using traditional, sustainable methods. The same day they're caught, the cod are transported to a highly regulated Norwegian facility for processing and purification.

Carlson Cod Liver Oil is bottled with a touch of vitamin E and is given a nitrogen flush to remove oxygen and to prevent oxidation.

To ensure maximum freshness, Cod Liver Oil is closely managed from sea to store.

Kid's Cod Liver Oil Omega-3s Ingredients in ¼ teaspoon:
Vitamin A (from cod liver and retinyl palmitate) RAE 127 mcg
Vitamin D (from cod liver oil and cholecalciferol) (200 IU) 5 mcg
Vitamin E (as d-alpha tocopherol & mixed tocopherols) 3.3 mg
Norwegian Cod Liver Oil 2.3 g
Omega-3 Fatty Acids550 mg
DHA (Docosahexaenoic Acid) 250 mg
EPA (Eicosapentaenoic Acid) 200 mg

Other Ingredients: Natural lemon flavor, Contains fish (cod).

Contains fish (anchovy, sardine and mackerel).

This product does not contain gluten or preservatives.

Suggested Use:
Children 2 years and older take 1/2 teaspoonful once or twice daily at mealtime.

Consult your pediatrician before giving to children under 2 years of age.

After initially opening the bottle, keep refrigerated and preferably use within 100 days.

Keep out of the reach of children.