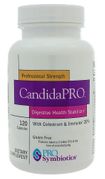 TEMPORARILY UNAVAILABLE

CandidaPRO by PROSymbiotics with Colostrum and Immulox is a synergistic formula designed to provide immune support and maintain a healthy digestive tract. Colostrum and Immulox promote immune system health and with a proprietary probiotic blend contributes a wide range of "friendly" bacteria to help your digestive flora stay in balance.

CandidaPRO with Colostrum and Immulox contains the full spectrum of naturally occurring Lactoferrin, Immunoglobulins (IgG), Proline-Rich Polypeptides (PRPs) and Immulox.

Immulox is Colostrum standardized to contribute a higher concentration of PRPs. PRPs are signaling proteins that adapt to provide immune system modulation they are considered the most important constituent in Colostrum.

PROSymbiotics Colostrum with Immulox is exclusively from USDA Grade A dairies and only from first milking. Laboratory tested and verified free from pesticides, antibiotics and rBHT hormones.

CandidaPRO Ingredients in 2 capsules: Bovine Colostrum 692 mg, (Pasteurized Cow Pre-MILK) Immunoglobulins (IgG) 159 mg, Proline-Rich Polypeptides (PRPs) 42 mg, Proprietary Blend of Probiotics 240 mg 2 Billion CFU: Lactobacillus acidophilus, Lactobacillus plantarum, Bifidobacterium longum, Bifidobacterium bifidum Lactobacillus casei, Lactobacillus brevis, Streptococcus thermophilus, Lactobacillus rhamnosus, Lactobacillus bulgaricus, Lactobacillus salivarius, Bifidobacterium breve, Lactobacillus paracasei, Bifidobacterium lactis, Lactococcus lactis. Lactoferrin 31 mg, Other Ingredients: Rice flour, medium chain triglycerides, sunflower lecithin, gelatin. CONTAINS: MILK

Suggested Use: Take 2 capsules 2 times daily with water or drink of choice on an empty stomach. Take up to 2 additional servings per day in times of environmental or physical stress.

Consult your healthcare practitioner prior to using this product if you are pregnant, nursing or if you have a medical condition. Discontinue use if you experience adverse reactions and consult your healthcare practitioner.

Each bottle is double sealed for quality and safety. Close tightly and store in a cool, dry place away from heat.

Keep out of reach of children.