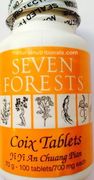 Coix Tablets by Seven Forests is a traditional Chinese herbal formula used to clear heat and toxins.

Coix Tablets combines three treatment principles for alleviating acne and other skin eruptions. This formula can also be useful for intestinal infection or inflammation, such as colitis, diverticulosis, and infection-caused diarrhea. The dual use of the formula reflects similarities in problems of inflammation at a body surface (skin or the intestinal lining) and may also reflect the traditional Chinese correlation between skin and large intestine (mediated by the lungs, as aspects of the metal element).

Chinese Symptomology: Intestinal Infections with Diarrhea

Western Symptomology: Acne; Herpes Zoster

Actions: Clear Heat; Clean Toxin; Vitalize Blood

- Acne
- Intestines- diarrhea
- Skin Eruptions

Coix Tablets Ingredients: Coix, Red Root Sage Root, Oldenlandia (Hedyotis), Rehmannia (Fresh), Sophora Flavescens, Dragon's Blood, Peony (Red), Chimonanthus.

Suggested Use: Take 2 to 3 tablets, 3 times a day or as directed by your healthcare practitioner.

Consult your healthcare practitioner prior to using this product.

Keep out of reach of children.