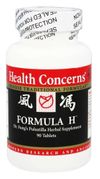 Formula H by Health Concerns is an empirical formula for hemorrhoids based on Dr. Fung's 60 years of clinical experience.

In Chinese medicine, the presenting pattern is one of damp-heat sinking. Thus, the primary goal of this formula is to clear damp-heat.

Formula H clears heat; Consolidates yin; Promotes its circulation; Eliminates dampness; Nourishes the blood; Stops bleeding.

- Supports reducing swelling of hemorrhoid tissues and hemorrhoid bleeding
- Supports resolving bloody stools due to other conditions
- Can be used for excessive menstrual bleeding due to heat

Formula H Ingredients in 3 tablets: Proprietary Blend: Sanguisorba root (di yu), Pulsatilla root (bai tou weng), Sophora flower (huai hua mi), White Peony root (bai shao), Tang Kuei root (dang gui), Rehmannia (raw) root (sheng di huang), Fraxinus cortex (qin pi), Phellodendron cortex (huang bai), Lonicera flower (jin yin hua).

Other Ingredients: vegetable gum, silicon dioxide, stearic acid, cellulose.

Suggested Use: Adults: Take 3 to 5 tablets 3 times per day between meals or as recommended by your healthcare practitioner.

Do not use this product if are pregnant or nursing.

Keep out of reach of children.