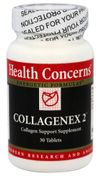 Collagenex 2 by Health Concerns helps promote joint health and flexibility. The powerful natural ingredients contained in Collagenex 2 have been scientifically proven to reduce joint pain and stiffness in less than 14 days.

It is an excellent supplement choice for individuals suffering from arthritis, tendonitis, back pain and other tissue disorders. Its proprietary blend of NEM natural eggshell membrane, including glucosamine' chondroitin' and hyaluronic acid, works to support the healthy formation of new connective tissues necessary for maintaining joint mobility and flexibility.

Collagenex 2 health benefits:

- Aids in improving joint health and flexibility
- Assists in the formation of healthy new joint cartilage
- Provides relief from joint pain and stiffness

Collagenex 2 Ingredients in 1 tablet: Proprietary Blend (500 mg tablet) of: NEM natural eggshell membrane. Other Ingredients: Vegetable Gum, Silicon Dioxide, Stearic Acid, Cellulose.

Suggested Use: Take 1 tablet per day.