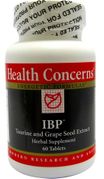 IBP by Health Concerns is a combination of a patented grape extract used in clinical studies for hypertension, and taurine for blood pressure and cholesterol support.

Polyphenols from grape seeds have many benefits: decreased LDL oxidation, increased HDL, and decreased platelet aggregation. Additional IBP benefits include vasodilatations, modulation of swelling response and removal of cholesterol from the intestines.

- Support for high blood pressure and pre-hypertension
- Supports reducing total blood cholesterol and LDL cholesterol
- Provides support against LDL cholesterol from oxidation, increases blood flow, relaxes blood vessels
- Supports elimination of cholesterol and fat from the body

IBP Ingredients in 1 tablet:
Proprietary Blend (650 mg per tablet):
Taurine, BP Grape seed extract

Other Ingredients: cellulose, silicon dioxide, vegetable stearic acid, vegetable magnesium stearate.

Suggested Use: Adults: Take 1 tablet 2 times per day between meals or as recommended by your healthcare practitioner.

Do not use this product if are pregnant or nursing.

Keep out of reach of children.