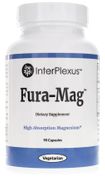 Fura-Mag by InterPlexus is a high absorption magnesium. Magnesium is an essential mineral nutrient for life and is present in every cell type in every organism. Magnesium is necessary for the formation of bone and teeth and for normal nerve and muscle function. It is also essential for cell energy production. Many enzymes in the body depend on Magnesium to function normally.

The value of Magnesium supplements is dependent upon both their absorption efficiency and bioavailability. Various mineral forms of magnesium are not all equally absorbed. Magnesium glycinate and Magnesium oxide have about 25% absorption efficiency.

The daily recommended allowance is calculated using 25-35% absorption. In contrast, Magnesium fumarate, as used in Fura-Mag is much more readily utilized by the body, approaching 85% absorption.

The Fumarate is a low molecular weight organic salt which is metabolized with great efficiency is the Krebís cycle, perhaps our most fundamental energy-releasing pathway.

The causes of low Magnesium are low dietary intake and decreased intestinal absorption. Consumption of large amounts of alcohol and people who have diarrhea may suffer from a low level of Magnesium as well. Symptoms of low Magnesium include nausea, weakness, sleepiness, personality changes, muscle spasm and loss of appetite.

Fura-Mag Ingredients 1 capsule: Magnesium as Magnesium Fumarate 140 mg. Other Ingredients: Vegetable capsule (HPMC, water, titanium dioxide), microcrystalline cellulose and magnesium stearate.

Fura-Mag does not contain dairy, eggs, soy or gluten.

Suggested Use: Take 1 capsule 1 to 2 times daily with meals or as directed by your healthcare practitioner. Do not chew or open capsule.

Consult your healthcare practitioner prior to using this product if you are pregnant or nursing.

Keep out of reach of children.