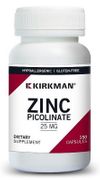 Zinc Picolinate by Kirkman helps supports immune system health and function, cognitive health, enzyme regulation and more.

The human body requires a wide range of minerals, among other nutrients to maintain optimal health and wellness. Zinc is one of the most important, as it plays a role in over 200 enzymes and provides a number of other health benefits as well, including a healthy immune system boost.

Zinc can be found in foods like fish and shellfish, red meat, oysters, whole grains, and mushrooms, but is also available in supplement forms that can be used every day.

Zinc Picolinate Benefits:
• Clear, healthier-looking skin
• Optimal cognitive function
• Boosted immune system health and function
• Enzyme regulation

Zinc Picolinate ingredients in 1 capsule:
Zinc (Elemental) from Picolinate 25 mg

Other Ingredients: Di-calcium phosphate, zinc picolinate, plant cellulose, l-leucine, plant cellulose capsule.

This product does not contain sugar, starch, soy, wheat, casein, gluten, milk, corn, egg, preservatives, yeast, gelatin, flavorings, colorings, peanuts, tree nuts or fish.

Suggested Use:
Take 1 capsule daily or as recommended by your healthcare practitioner.

Consult your healthcare practitioner prior to using this product if you are pregnant or nursing.

Keep out of reach of children.