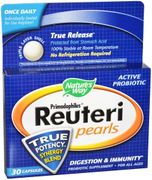 Supports digestion & immunity.

Primadophilus Reuteri Pearls by Nature's Way provides a unique lactobacillus naturally found in human breast milk, and is one of the first defenses a nursing mother passes to her child. When taken as a supplement, reuteri colonizes in the intestine and provides healthy benefits.

Primadophilus Reuteri Pearls help fortify the intestinal tract with a high potency of active lactobacillus and bifidobacterium cultures.

- No Refrigeration Required
- Superior Probiotic
- Active Probiotic
- True Potency Synergy Blend
- Probiotic Supplement
- For All Ages

Maintaining a proper level of lactobacillus reuteri (SD-5865) and other lactobacillus & bifidobacterium cultures in the intestinal tract can:

- Help support healthy immune function
- Promote healthy digestion and nutrient uptake

Primadophilus Reuteri Pearls Ingredients in 1 capsule:
Proprietary Probiotic Blend 15 mg providing 1 Billion CFU
(Lactobacillus acidophilus, Bifidobacterium longum, Lactobacillus reuteri (SD-5865) and Lactobacillus rhamnosus).

Other ingredients: Coconut oil, palm oil, fish gelatin (tilapia), glycerin, soy lecithin, pectin, silica.

May contain a minimal residual amount of milk protein. Capsule color variations are normal.

Suggested Use:
Take 1 capsule daily with or without food or as directed by your healthcare practitioner. Do not chew or crush. Store in a cool, dry place.

Keep out of reach of children.