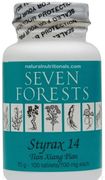 Styrax 14 by Seven Forests, also known as Tian Xiang Pian, opens orifices and disperses qi and blood.

Styrax 14 is recommended for those supporting normal cardiovascular function. This formula is used for the treatment of obstructed circulation in the chest.

Chinese Symptomology: Abdominal or chest pain due to stasis of blood

Actions: Open Orifices; Disperse Qi and Blood

- Abdomen-Pain
- Supports Normal Cardiovascular Function
- Supports Normal Blood Circulation

Styrax 14 Ingredients: Styrax Resin, Nardostachytis Root & Rhizome, Notoginseng, Peony (Red), Ligusticum, Red Root Sage Root, Amomum, Santalum, Lindera Root, Mastic, Cinnamon Bark, Carhtamus, Licorice, Borneol.

Suggested Use: Take 2 to 3 tablets, 3 times a day or as directed by your healthcare practitioner.

Consult your healthcare practitioner prior to using this product.

Keep out of reach of children.