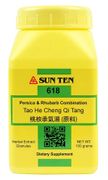 Temporarily Unavailable

Persica & Rhubarb Combination by Sun Ten also known as Tao He Cheng Qi Tang is for stagnant Blood.

Tao He Cheng Qi Tang translates as Peach Pit Decoction to Order the Qi. Tao He Cheng Qi Tang is an ancient formula that has been used for over 2000 years in the treatment of lower abdominal pain. In Traditional Chinese Medicine theory, blood flow can slow down and stagnate, causing pain. Tao He Cheng Qi Tang is in a family of formulas that order the qi with the purpose of relieving constipation and clearing blood stasis. The name of the formula comes from the primary ingredient, tao ren, which promotes blood circulation.

Western Symptomology:
• Abdomen(Lower)-Stagnation
• Delirious Speech
• Fever-Evening
• Headache
• Intestinal Sluggishness
• Supports Normal menstruation
• Pain-Lower Abdomen
• Thirst
• Urinary – Absence

Chinese Functions:
• Blood-Stagnant

Tao Ren: an herb that strongly promotes blood circulation and relieves pain
Da Huang: rhubarb root that acts as a strong laxative in order to expel impacted stool
Gui Zhi: a twig that improves blood circulation and supports proper flow of blood and fluids
Mang Xiao: an herb that acts as a mild laxative to ease constipation and clears excess heat in the body
Gan Cao: licorice root helps boost energy, relieve spasms, and balance the formula

Ingredients: Peach seed (tao ren), Chinese rhubarb root & rhizome (da huang), Cinnamon twig (gui zhi), Chinese licorice root & rhizome (zhi gan cao), Mirabilitum (mang xiao).

Suggested Use:
Dissolve 1 to 2 grams in a cup of hot water to make a tea 2 to 3 times daily.