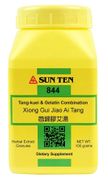 Tang-Kuei & Gelatin Combination by Sun Ten also known as Xiong Gui Jiao Ai Tang tonifies and move blood, supports normal menstruation, and stabilizes the fetus.

Western Symptomology:
• Complexion-Pale
• Dizziness
• Feet-Cold
• Hands-Cold
• Hemorrhoidal-Bleeding
• Hemorrhoidal-Inflammation
• Supports Normal Menstruation
• Pain-Abdominal

Chinese Functions:
• Blood-Deficient

Ingredients: Tang-kuei root (dang gui), Raw rehmannia root (sheng di huang), White peony root (bai shao), Cnidium root (chuan xiong), Gelatin (e jiao), Mugwort leaf (ai ye), Chinese licorice root (gan cao).

Suggested Use:
Dissolve 1 to 2 grams in a cup of hot water to make a tea 2 to 3 times daily.