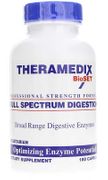 Full Spectrum Digestion by Theramedix BioSET (Broad Range Digestive Enzymes) helps support the breakdown and absorption of carbohydrates, proteins, fats, soluble and insoluble dietary fiber with a broad pH range of activity.

• Promotes digestive balance and nutrient absorption
• No fillers
• Vegetarian

Thera-blend is our exclusive process for formulating enzyme blends. These blends are formulated using multiple enzyme forms selected for their ability to break down numerous bonds in varying pH levels.

Full Spectrum Digestion Ingredients in 1 capsule:
Proprietary Enzyme blend 320 mg
Amylase (18,000 DU/1,000 BAU)
Protease blend (acid and neutral protease) (50,000 HUT/10 SAPU/1,000 PC)
Xylanase (2,000 XU)
Lipase (1,200 FCCLU)
Alpha-galactosidase (160 GaIU)
Lactase (850 ALU)
Glucoamylase (8 AGU)
Pectinase (10 endo-PGU)
Cellulase (500 CU)
Hemicellulase (2,000 HCU)
Invertase (400 SU)
Diatase (300 DP)
Beta-Glucanase (10.9 BGU)
Phytase (1.8 FTU)

Other Ingredients: Vegetable capsule (hypromellose and water).

Suggested Use:
Take 1 capsule before each meal or snack or as directed by your healthcare practitioner.

Consult your healthcare practitioner prior to using this product if you are pregnant, nursing, taking medication or have a medical condition.

Keep out of reach of children.