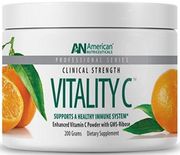 Vitality C - the Next Generation of Vitamin C

Vitality C by American Nutriceuticals is a high dose, neutral pH, buffered Vitamin C with a pleasant taste that can easily be mixed with water or juice.

Vitality C is further enhanced with a unique GMS-Ribose formulation that enhances the absorption and uptake of Vitamin C. It has four separate pathways to speed the uptake and therefore increasing bio-availability.

Vitality C Ingredients 1 scoop (6.5 grams): Vitamin C 4, 000 mg (L-Ascorbate C crystals with FASM) and GMS-Ribose 2,000 mg.

Suggested Use: Take 1 scoop 1 to 4 times daily dissolved in water or juice, or as directed by your healthcare practitioner. For imbalances, take 1 teaspoon every 1 to 6 hours. Children under 10 years of age take 1/2 teaspoon per year of age daily.

Unique synergistic formula permits consuming mega doses of Vitamin C with minimal gas or diarrhea. Consult your healthcare practitioner prior to using this product if you are on a sodium restricted diet.

Please do not refrigerate. As Vitality C is an all-natural product, color may vary and/or a slight browning may occur which does not affect potency or taste.

Keep out of reach of children.